February 4th, 2015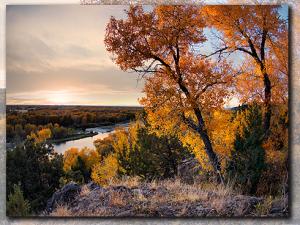 Autumn view from the Cress Creek Preserve. Idaho is my home state and sometimes I can receive a little bereavement from residents when I travel and work in other states or regions. I think for the most part though people do understand what it takes to make a living at this and then of course there is the added benefits of exploration and adventurous travel. Still, it's always a pleasure to represent Idaho when I can, after all it is home and without question, a great place to live.
January 7th, 2015
I've decided it's a good time in my life to teach more. I've joined forces with world renowned wildlife photographer Christopher Balmer, owner of Perfect Light Camera in Idaho Falls. Christopher has been leading photo trips all over the world for many years and I'm impressed with his attention to detail and the foundations he has built that allow for the best in photography tours. Most of his clients are repeats and that in itself tells a story. So far my involvement includes Yellowstone next February and Iceland in October. As most of you know, I describe my style as fine art nature and that will be my emphasis, whereas Christopher's main focus will be on wildlife. Both of us will be teaching how to get the best from camera equipment as well as what it takes to turn this into an art form. Our styles are complimentary but different in a way that will provide clients with a fuller range of knowledge and experience. For dates and lots of other information about these amazing trips, check out Christopher's web site at http://perfectlightstore.com/



January 4th, 2015
I'm seeing a resurgence of the attitude that photography isn't an art, everyone owns a camera etc. Photography isn't an art in the same way that cutting something with a chainsaw or chipping at marble with a hammer and chisel isn't art. The hammer and chisel, chainsaw, paintbrush, musical instrument etc. are just tools, nothing more and a camera is nothing more than a tool that captures light.
There is another aspect to this that I find disturbing. The person making the photography isn't art statement is implying that he or she has a fully realized capacity to define and conclusively judge what is art and what isn't. To me that's a pretty arrogant stance to assume. Reasonable discussions involving human creative skill or imagination (art) reveals that a definition via an example is elusive at best.
I talk about the similarities in photography with music, painting and other visual arts in various venues. Imagine spending a lifetime in a creative pursuit and then being told - that isn't art. To me that statement simply represents some fundamental misunderstandings and lack of knowledge.
There is a long history regarding this debate and it seems that it tends to resurface with the advance of new technologies. The advent of the Kodak Brownie in the 1900's is a good example.
Unconsidered statements have the potential to be destructive in numerous ways especially when similar attitudes tend to become pervasive, such as what happened involving a recent article and blog making the announcement that photography isn't art and never will be. It made the internet rounds. I don't know but maybe some seek to raise their stature by tearing others down by whatever means. Sad when it works and I guess the best I can do is speak out when I can.
October 24th, 2014
Being an administrator of a business page on social media sites causes some ethical dilemmas. The goal is to get as many followers, likes or subscribers as possible and the methods for doing this involve social interaction. On the surface this seems benign and maybe just an extension of what has always been a good practice for business owners - build relationships based on trust and friendship. However, social media transports this model to a whole new level and this is where the problems begin.

I'll use an artist page as an example since that's what I'm most familiar with. The prolific advise that artists are bombarded with, almost on a daily basis, involves how to get people to subscribe to your blog, social media pages etc. These techniques include getting people to feel like they know you, even admire you and want to be a part of your life. This is accomplished by interacting and the advice always includes things to say, not to say and how to say it. Something is wrong with this picture.

For me this leads to a question. Where is the line between real social/ human interaction and just an attempt to sell something? It appears this line has become far more blurred but leans towards selling. Note how the instructions for social media success always emphasize how numbers of fans/followers will lead to "more sales".
Yes, that can be true, numbers can equal sales but there is a potential for a false dichotomy here that bothers me.

In a face to face interaction, it can be easy to recognize if someone is just being kind or trying to sell you something with a fake smile. We instinctively see this through body language, voice inflections etc. The car salesman stereotype is a pretty good example. When online, it's much harder if not impossible to make these distinctions.

This impossibility is taken advantage of in numerous ways. Fake friendship, false concern and other pretense is easier than ever and even encouraged by some to build an audience of followers in hopes that they will buy something. I can't play that game. It also becomes a battle for likes using prescribed formulas recommended by social media marketing agents. Hundreds if not thousands of sites claim to have these formulas down and they will instruct you, for a fee of course or you can find free stuff.

In general I also have a tendency to step away from battles for attention and others prescribed rules for achieving more of it, perhaps to my detriment in some ways but that's my personality.

I have Facebook pages and I am very appreciative of every single like, comment, subscriber and friend. It's a pleasure to share what I do, I hope you enjoy it and that's it.

I'm far more concerned about content than numbers of likes.
February 28th, 2013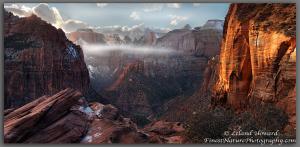 Capturing the grandeur of a large landscape scene can be one of the most difficult challenges. Far to often the magnificence is lost when rendered on a small two dimensional plane. A lifetime is spent in search of ideal conditions along with beautiful light that might, among other things, create the illusion of a three dimensional space. This clearing storm in Zion National Park of southern Utah was just such an opportunity. I refer to it sometimes as the attempt to do a landscape justice. When the conditions are right, everything has to be done correctly in what can be a very short period of time. Over the decades I've missed far more opportunities than I've been successful at. It's the nature of the game and the learning process.
December 18th, 2012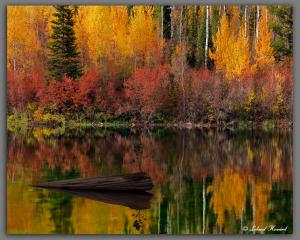 Recently, while giving a talk, I was ask: "What makes your photography better than others"?. The question caught me a bit off guard because I don't think in terms of being better than others. For me its about sharing a vision and maybe along the way if I could raise awareness, that would be a positive contribution. So I just do what I can and it's gratifying to learn when I have helped someone gain a better appreciation of our brief moment in the sun.
March 31st, 2011

The Cress Creek Nature Trail and preserve in east Idaho is becoming increasingly popular. The BLM has so far procured about 24 million for land easements, trail and bridge work at this site using my work in slide shows. It's a nice place to go for a hike, is less than an hours drive from Idaho Falls and the trail offers great views of the Snake River. Cress Creek itself is a wetland and spring on the side of the mountain with nice cascades and Cottonwood trees.